Obvio is the first-person singular present tense of the Latin verb obviare, which means
"To go to meet, to meet along the way"
Nicolas Goffaux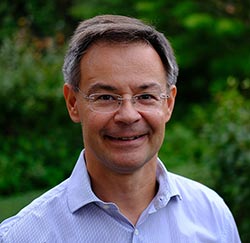 Nicolas is a commercial engineer and a graduate in adult education (ICHEC) and has a Master in Marketing from the Vlerick School (SLM Ghent University).
In the first part of his professional life, he worked for the L'Oréal group (in Belgium and internationally) in marketing, commercial and human resources positions for 12 years.
For 14 years, Nicolas pursued his "second stage of professional life" as a consultant-partner in the
Executive Search AHEAD
–
www.ahead.be
.
He met people in the context of his recruitment missions every day, and also offered career counselling services (career repositioning), where he put his business, human resources and job market experience at the service of people and businesses.
Above all, Nicolas enjoyed "one to one" meetings and liked to understand everyone's needs and aspirations.
Wanting to further develop this assistance in personal development, he trained in coaching at the Nova Terra school (ICF).
In parallel with his Executive Search activity, Nicolas then created Obvio coaching, his "third stage of professional life", to serve others.
Nicolas has already acquired solid experience in personal coaching and workplace coaching, and puts it at the service of those who want to benefit from it.
"Supporting others creates meaning"